The Wholigans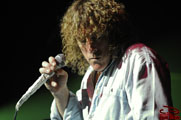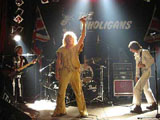 The world's first and longest running tribute to The Who since 1982. The Wholigans, fronted by lead vocalist Barry Quinn were originally formed in Toronto Canada in 1982. They are now based in Florida USA and their occasionally changing members are currently from Toronto, New York City and Georgia. The Wholigans have toured extensively across Canada and the USA as well as numerous tours of the UK and Europe. From the stage clothes to the authentic stage gear and capturing the mannerisms of The Who The Wholigans bring back memories of a Who of yesteryear which has to be seen to be believed. The band is regarded by many fans of The Who as the world's best WHO tribute.

The Wholigans website

The Who Show aka The Who aus LU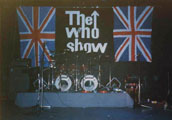 A band from Ludwigshafen (LU) in Germany. They played a famous gig at the German Who Fan Convention in June 1990 in Ludwigshafen. Not known if they formed just for that special event or if they existed a longer time. At the end of their convention show they destroyed their instruments in best Who-like manner, so it is assumed that this was their last performance ever. At the convention someone recorded the show on video tape which I'm still looking for. Any further information is highly appreciated.

The What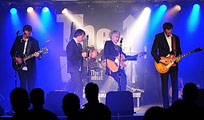 German band based in Braunschweig. Originally founded in 1995 as Friends Of British Opera, performing Tommy and Quadrophenia in onstage productions. They changed their program to the Best Of Who and renamed to The What in early 2004. The What do occasionally shows in Germany.

The What website

Who's Who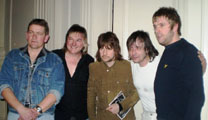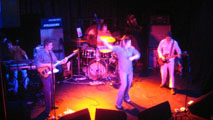 Since their humble beginnings in West London in 1996 to now; Who's Who, the longest established Who Tribute Show in the UK, have received incredible reactions across Europe and beyond for their exciting live performances. Widely recognised and respected by their musical peers and acknowledged by members of The Who and those close to the band, as the group that most interprets the songs of Pete Townshend and the legendary live performances of The Who with honesty and integrity.

Who's Who website

Who Are You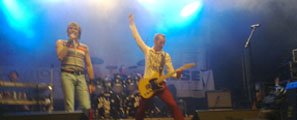 German Who tribute band founded in 2005 and based in Düren near Cologne.
Among regular live gigs in Germany they also performed at the Spirit Of 66 festival in Verviers, Belgium in 2009 and recently did a fantastic show as support act for Manfred Mann's Earthband at an open air festival in Kamen, Germany. According to Who fans Who Are You are currently the ultimate German tribute to The Who.

Who Are You website

Who's Best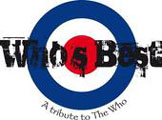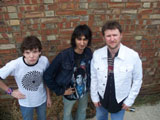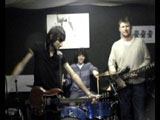 Formed in 2010, based in UK.

The How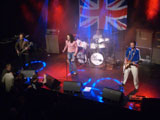 A very new Who tribute band from Switzerland, founded in 2010 and based in Bern.

The How website

Kuka W...?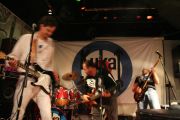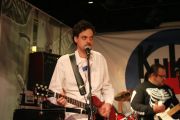 Kuka W...? is a Who tribute band from Finland and was founded in 2011.
The band members all have over 25 years playing experience and have already done some gigs - most memorable so far was the Finnish Woodstock-Festival (how convenient...). They are based in Tuusula which is a small town about 30 km's from Helsinki. The band's name is a translation from Who ("kuka" = "who" in Finnish) with a small add-on to use the letter 'W'. This lead directly to "Kuka W...?" in the style of "Who The F...?".

Eel Pie






Eel Pie is a French tribute band from Paris, founded in February 2015.
Best in-breed experienced musicians from France join together to produce real live tribute to The Who. Following the spirit of albums such as Live at Leeds, EEL PIE will rock the place with revisited standards such as Who Are You, The Real Me, Won't Get Fooled Again and Tommy. This original 3-piece line up delivers a powerfull and spirited show for all dedicated fans of The Who.

Eel Pie website

Eel Pie on Facebook

The Whu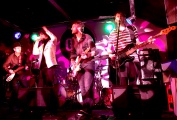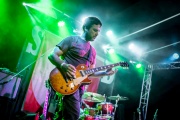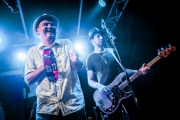 The Whu is a (obviously the one and only) Hungarian tribute band, since 2015 and located in Budapest.
They say about themselves: We're not trying to look as The Who in their heydays, not copying their outfits and not trying to reproduce their famous instrument park. The Who is not a vax museum! We're keen on keeping it all fresh, up to date, dynamic and living, just like The Who these days. We're not into creating a decent nostalgic feeling out there... We want to make the audience crazy, just like The Who for the last 50 years. And yes... we're loud! F**kin' loud indeed. You can't play Who keeping the knobs down!

The Whu on Facebook

Who's Who / The Substitutes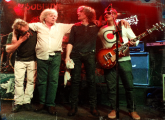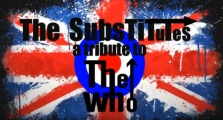 Formed in January 2016 as Who's Who and based in Paris. Evidently renamed to The Substitutes.
Tout commence en 2012 à Paris… Jean-Louis sort de l'Olympia à Paris où il vient d'assister à un concert de Roger Daltrey qui interprétait Tommy, le succès planétaire des Who. Il décide de réaliser un vieux rêve, celui de monter un groupe pour jouer les morceaux des Who. Il contacte alors quelques amis musiciens séduits par l'idée, Who is Who vient de naître ! Après un enregistrement et quelques concerts, la formation s'accorde un vrai temps de réflexion. Janvier 2016. Arrivent Fred à la guitare et Bertrand à la batterie qui insufflent une nouvelle énergie à la formation. Vince à la basse rejoint le groupe maintenant au complet, ce dernier change de nom pour celui de Who's Who! Who's Who est donc à nouveau en route et impatient de monter sur scène afin de délivrer à tous les fans des Who les grands classiques du répertoire : Substitute, My Generation, Baba O'Riley, Who are You, The Seeker… et bien d'autres encore!

Who's Who / The Substitutes on YouTube

Generation Moon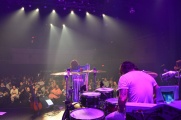 Founded in 2016 and based in Ottawa, Canada.
They are a more "theatrical" tribute, 4 different era's, costume changes and props!

Generation Moon on Facebook

Generation Moon on YouTube

Further The Who tribute bands
The Buttbombers


Who Are You (UK)


Who's Next (UK)


If you know of any other The Who tribute band please let us know.